I realized the other day that this quite possibly could be my last school break ever. After May 20th, Winter Break, Spring Break, and Summer will not exist in my life. The real world will run on non-stop… or so I here.
With this realization, I'm soaking up my final days of my lonnggg break; in other words, double WREC days, chick flicks in bed, deep cleaning/reorganizing, pampering my training toes with a pedicure, etc.
Here are a few favorites from the past five weeks, in no particular order.
country music.
…specifically Sugarland, Lady Antebellum + Rascal Flatts.
the daily sprinkle.
Every morning I read The Daily Sprinkle via the sparkling and spunky, Syracuse-lovin' Miss Katelyn. It's like Positive Monday every day.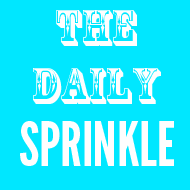 iced coffeeee.
Every morning, my dad would make an extra cup of fresh, drip coffee for me and stick in the fridge to chill so I could have iced coffee with my oats – thanks, Dad! #spoiled
the ocean.
If the Pacific Coast isn't a place of peace, I don't know where is.
training like a fool.
…with new gear courtesy of Santa Clause.
gluten-free breakfasts after long training runs.
Hope y'all are enjoying your wintery weekend.
Stay warm!
Hillary